Dr Fabiola Neto, C.Psychol., Ps.S.I., is a Chartered Psychologist of the Psychological Society of Ireland (PSI). Fabiola is an Italian-Brazilian psychologist who holds a doctoral degree (PhD) in Psychology from University College Dublin, as a team member of UCD Child & Adolescent Psychiatry Department. Fabiola has also completed a clinical training in mental health and psychoanalytic psychotherapy from the Federal University of São Paulo, Brazil. In this clinical training, she was part of PROVE – a program at the Department of Psychiatry for patients with post-traumatic stress disorder. Fabiola is an adult and child psychotherapist with more than 10 years of experience delivering psychoanalysis for adults and children with a variety of emotional/mental health problems in her private and public practice in Brazil, Italy, and Ireland. She has also research and teaching experience and is currently a Psychology lecturer in St Nicholas Montessori College, in Dun Laoghaire. Fabiola is a member/ volunteer of the Association of Brazilian Psychologists in Ireland (ABPI) supporting Brazilian expatriates in Ireland.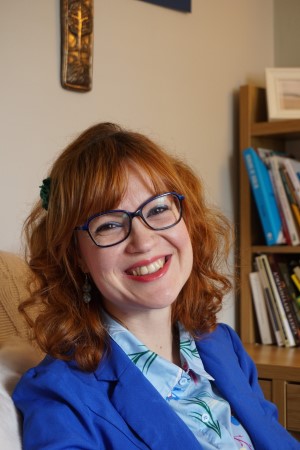 I finished my BA (Hons) in Psychology in 2007. In 2008, I started my training in clinical psychology in public mental health services part of my postgraduate study in Federal University of São Paulo (Unifesp) in Brazil, a governmental psychosocial clinical training programme with a psychoanalytic psychotherapy and multidisciplinary approach based in constant supervision, research and clinical base.
In 2009, I started my clinical private practice in São Paulo, together with my public position as a clinical psychologist and psychotherapist in multidisciplinary mental health teams. In this sequence, I obtained my MA in Psychopathology and Mental Health from the University of São Paulo in Brazil in 2012
I conducted my PhD in UCD from 2014 to 2018 researching on ADHD assessment and treatment. After finishing my PhD, I immediately started lecturing in Psychology in St Nicholas Montessori College. I have been working as a private clinical psychologist and psychotherapist in Dublin, providing psychological therapy (psychoanalysis) for young people and adults. I use psychoanalytic techniques to treat depression, generalized anxiety and problems in interpersonal relationships.
I deliver a special service of psychotherapy to expatriates living in Dublin who are struggling with language barriers, cultural differences and lack of personal networks, among other issues associated with moving to a new country.
I have the Chartered Membership of the Psychological Society of Ireland (PSI) .
PhD in Psychology – Graduate Research Programme (Sept 2014 – Aug 2018)
University College Dublin
Department of Child and Adolescent Psychiatry, UCD School of Medicine
Supervisor: Professor Fiona McNicholas
UCD School of Psychology, UCD Centre for Disability Studies
Supervisor: Associate Professor Suzanne Guerin
Thesis Title: The Power Balance: A Grounded Theory Study about the Experience of Clinicians, Parents and Children Regarding ADHD Assessment and Treatment
MA in Psychopathology and Mental Health Studies (Feb 2010 – Dec 2012)
Public Health School of São Paulo University (USP), Brazil
Thesis title: "Art as the possibility of freedom from post-traumatic experiences of social violence"
Postgrad Master Degree in Clinical Psychology (Feb 2008 – Dec 2009)
Psychiatrics and Medical Psychology Graduate Program
Professional Training in Psychosocial and Psychoanalytic Psychotherapy
State Department of Health
Federal University of São Paulo (Unifesp), Brazil
Thesis title: "The therapeutic role of an institutional setting for the clinical practise in a AMHS: a study of the hospitality and ambience"
Professional Training Program: Foundations of Psychoanalysis and its Clinical Practice (Feb 2009 – Dec 2009)
Sedes Sapientiae Institute, São Paulo, Brazil
BA (Hons) Degree in Psychology (Jan 2002 – Dec 2007)
Mackenzie University, São Paulo, Brazil
Monograph: "Current Education in Brazil: Attempt for Liberty or Domination?"
Final Graduation Project: "Family School Program: School and Community Dialogues"
© Copyright 2018 – Fabiola Neto